Oh My, so much to do!! WOW, October has started off like the first downward dip of a roller coaster! I have so much to share with you!!!!! So much going on! Check it out -
This is a great contest with great PRIZES!!
4th Place: ($10 value)
3rd Place: ($10 value)
2nd Place: ($15 value)
1st Place: ($25 value)
Not familiar with Club Deco? You are really missing out!
You will receive a monthly kit (MEGA - some almost 1 GB in size) by the many participating Deco-Pages Designers, as well as the monthly Color Challenge Starter Kit, and many freebies from our designers throughout the year - made just for club members!!
Here are a few more prieviews of the wonderful contributions for this month...And these are just a FEW...as a member you get all of these and SOOOO MUCH MORE!!!!!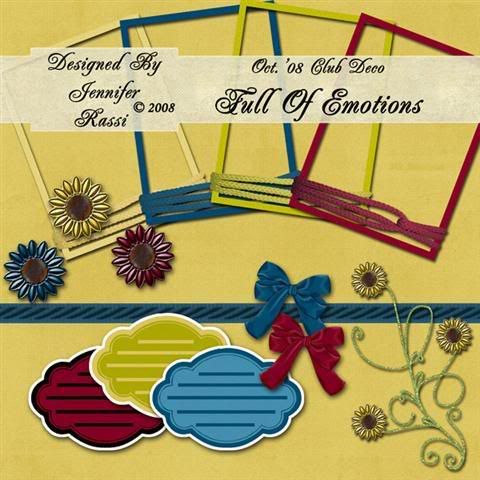 Time for another round of
BINGO
. I am really enjoying hosting this game, and do hope that you will come nad play. I need to have your word lists PMed to me by Monday, October 6. I will call word the 6th through the 18th. I keep going through the 18th...no matter how many people BINGO...and we have had many winners the past few rounds! Look at the awesome prizes for this round provided by
Randi Oh
~

Go ahead and take a few minutes to check out the site and all the talented designers there...freebies, games, and challenges too! Be on the look out there for some of my new designs coming very soon!
I am really falling in love with the Digital Scrapbook Artisan Guild and the Artisan Notebook. I downloaded my first copy and have been drooling over the pages. There are so many new things to try, so much information, and tons of amazing layouts to really inspire you and bite you with the scrapping bug! You can now get you copies at
Gotta Pixel
as well as
DSAG
.
This is my LO in the magazine...keep an eye out for it :D